Let's get Libby a bike!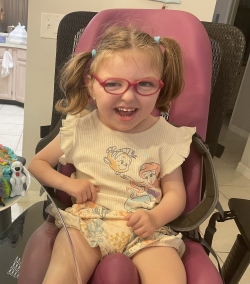 Four-year-old Bailey is non-verbal but that doesn't stop her from being very social and loving to be with people! She loves to be talked to, sung to, read to, danced with, and played with. She has a mile-wide smile that will bring anybody into her world.​
​Libby was born healthy and typically developing until she suffered a Traumatic Brain Injury at the hands of her birth parents. As a result, she developed cerebral palsy and epilepsy. Just two weeks later, she found her adoptive parents and despite limited mobility in her arms and legs, she is a happy little girl filled with joy.​
​Libby loves spending time with her family and friends and would very much like to have a bike that will allow her to enjoy more time with them while also providing therapy and movement in her legs that will help her on her journey to one day becoming more mobile.​
​Adaptive Bike - $5300​
ABOUT Meet a Need
Building Blocks for Kids supports children and families who live with disabilities in a wide variety of ways. One of those ways is through our Meet A Need Medical Scholarship Program. This program allows us to meet individual needs, one child at a time.
Report Abuse
Edit My Page