Keep Benjamin Safe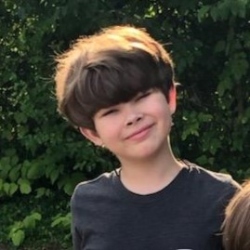 Ten-year-old Benjamin wants to be friends with the whole world! He loves to walk up to anyone he meets to share his newest piece of knowledge or to ask them questions. He is very inquisitive and cannot get enough knowledge. Benjamin will go to the library several times a week and get up to 30 books each time to feed his interests. He also loves crafting and building things and his imagination is amazing.
About two-and-a-half years ago, Benjamin was diagnosed with progressive Bilateral Sloping Hearing Loss that has quickly robbed him of his word recognition even as he continues to lose his tonal hearing. In that short time frame, he has had 2 cochlear surgeries and is now profoundly deaf without his coclear devices. While those devices do give his some access to the hearing world, there has been limitations that leave him in an exhausting world of constant guessing to maintain educational and social interactions.
Benjamin's family has raised funds and are on the waiting list for a service dog from 4 Paws for Ability. Before that dog arrives, they must have a fence installed that will help keep both Benjamin and the dog safe. His family has already raised $17,000 for the dog and have gotten a couple of grants for the fence. They just need our help to bring it all together and bring his dog home.
Fence for Safety
ABOUT Meet a Need
Building Blocks for Kids supports children and families who live with disabilities in a wide variety of ways. One of those ways is through our Meet A Need Medical Scholarship Program. This program allows us to meet individual needs, one child at a time.
Report Abuse
Edit My Page