A Dog for Dane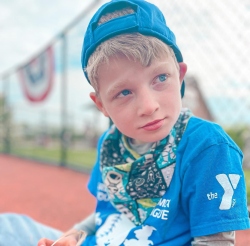 Nine-year-old Dane is in the fourth grade. He is super sensory-seeking and he loves hugs, swinging, his ball pit, and all things water. This past summer he became really good at swimming with his lifejacket on!​
Dane was diagnosed at the age of 2 with Angelman Syndrome, a neurogenetic disorder characterized by seizures, intellectual impairment, lack of balance/motor skills, lake of speech, and sleep difficulty.​
It has been recommended that Dane get a Service Dog to help with tracking, tethering, and behavior redirection as he currently struggles with elopement, following physical directions, and self-harm behaviors such as head banging.​
The waitlist for a service dog can be 2 years or longer and he cannot be on that waitlist until the family has raised a total of $20K. BB4K would like to help with at least $5000 of that fundraising effort.​
​Service Dog - $5000+​
ABOUT Meet a Need
Building Blocks for Kids supports children and families who live with disabilities in a wide variety of ways. One of those ways is through our Meet A Need Medical Scholarship Program. This program allows us to meet individual needs, one child at a time.
Report Abuse
Edit My Page