Let Emerson Thrive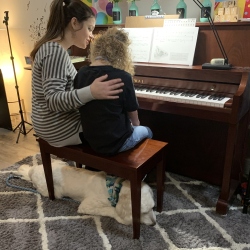 Ten-year-old Emerson was born with a multitude of challenges that to most would seem simply impossible to deal with. She is blind, deaf (but can hear some with her hearing aid), trach dependent, nonverbal, g-tube dependent, has mobility challenges due to a clubfoot, and many of her senses are limited due to craniofacial anomalies.
But that hasn't stopped Emerson or her parents from working hard to reach her full potential and find a way for her to express herself. She uses some modified sign language to communicate and she has learned to read and write braille.
Over the past couple of years, Emerson has found joy in learning to play the piano. She has been working with an instructor that is creative in modifying her teaching methods and her success has been nothing short of amazing.
Says Emerson's mom, "She has grown so much musically over the last year and our current goal is to spark her creative abilities and encourage freedom of expression through improvisation over the next year."
Need: Ongoing Modified Piano Lessons
ABOUT Meet a Need
Building Blocks for Kids supports children and families who live with disabilities in a wide variety of ways. One of those ways is through our Meet A Need Medical Scholarship Program. This program allows us to meet individual needs, one child at a time.
Report Abuse
Edit My Page