Give Ephraim his voice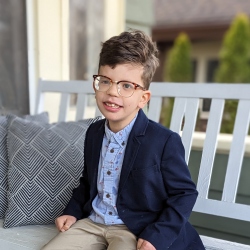 Eight-year-old Ephraim loves listening to music and is currently in a dance class through the Be.Well program at Cincinnati Childrens. This past year, Ephraim has been willing to try many new adventures and he is really enjoying them. He is a great rock climber and turned out to be a natural at skiing. Ephraim also loves to read!
At birth, Ephraim was diagnosed with Koolen-deVries Syndrome (KDVS) which causes global developmental delay and intellectual disabilities and usually weak muscle tone in childhood. Affected individuals usually have distinctive facial features and some, like Ephraim, deal with other health issues surrounding the heart, vision, hearing, etc.
Ephraim is generally a slow mover and processor. He is still learning to use and fine tune his muscles, especially the tiny muscles used for speech. In the past year, he was also given the diagnosis of Autism.
Ephraim has been receiving speech therapy for several years now and while he continues to make significant, but slow gains, he is still not fully understood by anyone outside of his parents and siblings. His current pace is about 3 new letter sounds per year and that progress can continue with your help!!
Whether you are able to cover the full cost of Ephraim's therapy grant or make a generous contribution towards his progress, every amount makes a difference.
Need: Ongoing Speech Therapy
ABOUT Meet a Need
Building Blocks for Kids supports children and families who live with disabilities in a wide variety of ways. One of those ways is through our Meet A Need Medical Scholarship Program. This program allows us to meet individual needs, one child at a time.
Report Abuse
Edit My Page