Give Kali Access to her Bedroom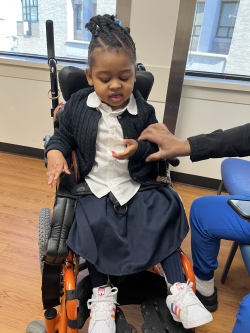 Six-year-old Kali is a young lady with a good sense of humor. She enjoys playing with toys that make noise. She loves to be read to and sung to.
Kali was diagnosed at birth with seizure disorder, diabetes insipidus (a rare condition that results from an imbalance of water in the body), schizencephaly and visual impairment. She uses a wheelchair to ambulate and she recently moved into a townhouse with her grandmother.
Kali is unable to safely access the second story of her home which includes her bedroom. Her more immediate needs include a sleep safe bed, which has been donated through BB4K who also delivered it to her home and a stairlift to get her to up the steps to her bedroom.
Stairlift
ABOUT Meet a Need
Building Blocks for Kids supports children and families who live with disabilities in a wide variety of ways. One of those ways is through our Meet A Need Medical Scholarship Program. This program allows us to meet individual needs, one child at a time.
Report Abuse
Edit My Page