Madison's Diabetic Alert Dog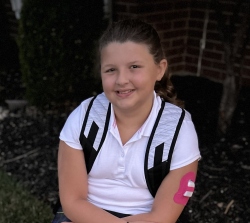 Madison is a 9 year old girl who loves to play volleyball and swim. She is a great little camper and enjoys hanging out with her friends. Madison was diagnosed in March of 2023 with Type 1 Diabetes. Prior to her diagnosis she was struggling in school and on an accomdation plan and very close to an IEP. After getting her insulin a fog lifted and now she is doing great at school with zero accomodations.
Madison is requesting help to fund a diabetic alert dog. This will help her feel more comfortable being in public as well as being away from her parents (which doesn't happen often now). She will also be able to rest easier at night knowing the dog will be working to make sure she is staying stable. The dog will also be a great companion to Madison as she negotiates her new normal.
ABOUT Meet a Need
Building Blocks for Kids supports children and families who live with disabilities in a wide variety of ways. One of those ways is through our Meet A Need Medical Scholarship Program. This program allows us to meet individual needs, one child at a time.
Report Abuse
Edit My Page