Give Maylee Communication Skills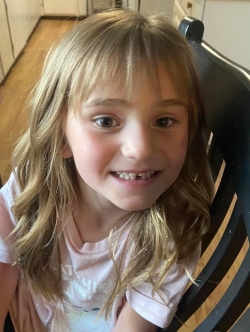 Six-and-a-half-year-old Maylee is a smart little girl who loves swimming, being outside, looking at books, and playing with her toys. She is currently in kindergarten and has done will academically this year as she has benchmarked at a kindergarten reading level, counted to 100, and was the first girl in her class to make it into the ABC Club!
But none of that comes without a lot of therapy and hard work! Maylee was diagnosed with autism and global developmental delay at the age of 2. At the age of 5 she was diagnosed with a combined form of ADD/ADHD.
While Maylee has made great strides, she continues to carry the diagnosis of developmental delay due to her challenges around speech/language and fine motor movements. Therefore, she still has a lot of work to do.
Maylee's mom wants to see her get the extra help she needs over the summer since she will not be in school receiving occupational services. She really struggles with handwriting so occupational therapy services will focus on that and she also struggles with socialization because of her speech delay and inability to express herself which speech therapy will address.
Need: Speech and Occupational Therapy
ABOUT Meet a Need
Building Blocks for Kids supports children and families who live with disabilities in a wide variety of ways. One of those ways is through our Meet A Need Medical Scholarship Program. This program allows us to meet individual needs, one child at a time.
Report Abuse
Edit My Page