Possibilities for Virginia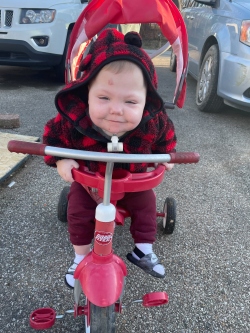 Virginia, at just 21 months of age, loves to make people smile!! She spent her first 16 months living in the hospital as she was born prematurely with multiple medical complications. Respiratory challenges during that time caused a lot of damage to her vocal cords and voice box so she will be nonverbal.
Virginia loves to play, read books with someone, and watch signing singing shows. She has learned several signs so that she can communicate some of her wants and needs.
Virginia will be trach and g-tube dependent for the foreseeable future. Her parents had to undergo education and training regarding her care as well as find home nursing support as someone must be with her 24 hours a day, every single day.
Virginia needs a Speech Tablet for better communication with those around her and a big stroller/wagon that can carry all of her stuff (air tank, trach bag, g-tube bag, diaper bag, etc.) when she goes out for appointments, school, the park…anywhere!
Need: Speech Tablet ($650) and Wonderfold Wagon ($700)
ABOUT Meet a Need
Building Blocks for Kids supports children and families who live with disabilities in a wide variety of ways. One of those ways is through our Meet A Need Medical Scholarship Program. This program allows us to meet individual needs, one child at a time.
Report Abuse
Edit My Page