Zander's Voice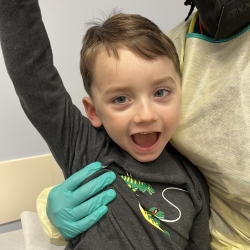 Four-year-old Zander enjoys feeding and playing with his baby dolls. He loves to go to school and he loves his big sister! He gets excited pulling himself up on furniture and he smiles and feel empowered when he uses his communication device at school.
Last year, Zander was in a car accident and was left with a Traumatic Brain Injury (TBI). He lost his ability to walk and talk as a result. He is making an amazing recovery through a lot of therapies.
Zander has been in the custody of his grandmother since the accident and is making great strides. She is very dedicated to him and his recovery and had to stop working for several months.
Zander uses a Talk Tablet at school but he is not allowed to bring it home. His grandmother and doctors would like for him to have one at home as it will allow him to continue to work hard towards becoming more independent in communication. It will also give him the ability to better communicate with his siblings and grandmother.
Need: Talk Tablet Pro ($865)
ABOUT Meet a Need
Building Blocks for Kids supports children and families who live with disabilities in a wide variety of ways. One of those ways is through our Meet A Need Medical Scholarship Program. This program allows us to meet individual needs, one child at a time.
Report Abuse
Edit My Page