Give Logan a new Shower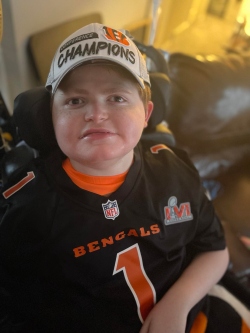 Logan is a 15 year old boy who loves Mickey Mouse anything with lights and cheering on the Bengals. He has a smile that lights up the room! He likes going to the aquarium and zoo and loves being around his siblings and dogs.
Logan is a medically complex young man and was born with a myriad of diagnosis including Cerebral Palsy and Hydrocephalus. He is non-ambulatory and requires assistance with transfers and bathing. As Logan continues to grow it will become more and more difficult for his caregivers to maneuver him safely in and out of places like the bathtub.
Logan and his family are requesting assistance in givng him a shower that he can roll into. Currently he has to either take a bed bath, or being carried up 13 stairs to use a bath chair.
$7500 - Shower/bathroom remodel
ABOUT Meet a Need
Building Blocks for Kids supports children and families who live with disabilities in a wide variety of ways. One of those ways is through our Meet A Need Medical Scholarship Program. This program allows us to meet individual needs, one child at a time.
Report Abuse
Edit My Page