Lexi's Therapy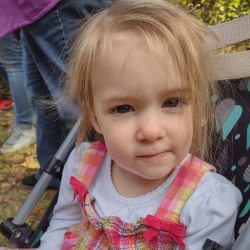 Two-year-old Lexi is a healthy, vivacious young lady who finds ways to communicate despite her hinderance. She tries to keep up with her 3 big sisters and her sweet, tender heart is always looking for ways to love those around her. She loves to help around the house by putting dishes away or sweeping the living room. She likes dancing, music, animals, and cuddling her two outside cats every chance she gets.
Lexi's parents noticed at about 15 months that she did not seem to have as many words as her sisters but thought it might be because her sisters did all the talking for her. They learned some sign language to help with basic day-to-day communication, but words were still not coming. Instead, they started to notice a variety of clicks and swallows like a different language, so they scheduled an evaluation and discovered that she has Childhood Apraxia of Speech
Lexi's understanding is 100% and she finds ways to get her point across, but a lot of it is guesswork based on context. During her evaluation the therapist used the PROMPT method and Lexi had a light bulb moment! Her parents cannot wait to get her therapy going!
Speech & Occupational Therapy - $5000
ABOUT Meet a Need
Building Blocks for Kids supports children and families who live with disabilities in a wide variety of ways. One of those ways is through our Meet A Need Medical Scholarship Program. This program allows us to meet individual needs, one child at a time.
Report Abuse
Edit My Page