Hayden's Voice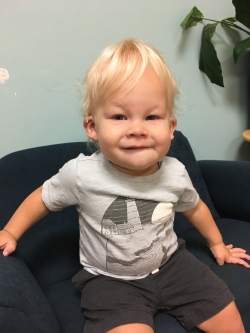 Three-year-old Hayden has an engineer mind. He loves to figure out how things move and stack and how to put things back together again. His favorite person, other than mom, is his big sister, Hailey. Together they are always laughing, screaming, jumping, running, and talking to each other. Their favorite place to be is outside on the swings or the trampoline.
Hayden was flagged at his newborn screening and when he went for another test at 5 weeks of age, he was diagnosed with profound sensorineural hearing loss. He was implanted with his cochlear implants at the age of 9 months and he started babbling at 14 months!
Hayden's parents would like for him to learn to listen and talk. Ohio Valley Voices is an oral school for the deaf that will teach him to access and decipher the sounds he hears through his hearing aids and his cochlear implants and will allow him to mainstream into his typical neighborhood school by the time he reaches 3rd grade.
Ohio Valley Voices - $5000
ABOUT Meet a Need
Building Blocks for Kids supports children and families who live with disabilities in a wide variety of ways. One of those ways is through our Meet A Need Medical Scholarship Program. This program allows us to meet individual needs, one child at a time.
Report Abuse
Edit My Page