Evie's Voice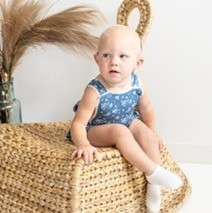 Two-year-old Evie is a fun-loving little girl who smiles a lot. She was born with bilateral profound hearing loss and has bilateral cochlear implants which allow her access to sound. Without her implants, she hears nothing. She requires intensive daily speech and language services to learn to listen and talk.
Evie's parents would like for her to continue those intensive services at Ohio Valley Voices, an oral school for the deaf that will teach her to access and decipher the sounds she hears and will allow her to mainstream into her typical neighborhood school by the time she reaches 3rd grade.

Ohio Valley Voices - $3000
ABOUT Meet a Need
Building Blocks for Kids supports children and families who live with disabilities in a wide variety of ways. One of those ways is through our Meet A Need Medical Scholarship Program. This program allows us to meet individual needs, one child at a time.
Report Abuse
Edit My Page