Help Preston listen and speak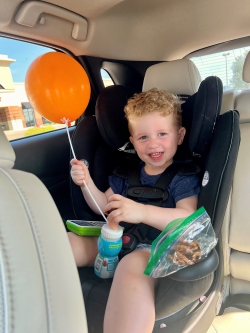 1 1/2 year old Preston is a sweet, fun, spunky little boy. He has two dog brothers, Enzo and Dallas. He loves playing with his cousins, swinging and clapping when he accomplishes something. He has started saying some words and loves to sing twinkle, twinkle little star.
Preston was born with Usher Syndrome. It is the most common genetic cause of combined deafness and blindness. He was born with moderate hearing loss and will eventually develop the vision loss portion of Usher Syndrome. Attending Ohio Valley Voices School will put Preston in group and individual therapies in speech, language and listening. Learning to speak and listen at this age is crucial for Preston's developement as he will eventually also lose his vision.
Ohio Valley Voices - $5000
ABOUT Meet a Need
Building Blocks for Kids supports children and families who live with disabilities in a wide variety of ways. One of those ways is through our Meet A Need Medical Scholarship Program. This program allows us to meet individual needs, one child at a time.
Report Abuse
Edit My Page